Stephanie Miracle Is Preserving—and Challenging—Tradition at University of Iowa
When I first interviewed Stephanie Miracle, the University of Iowa visiting professor was headed into spring break—which quickly became a Zoom crash course, as the university migrated all of its classes online. The key parts of Miracle's teaching philosophy—establishing community and relationships, building awareness of the space around you—suddenly needed brand-new consideration and planning. "Taking that part of my curriculum into online teaching was really challenging," said Miracle, in a follow-up interview conducted after the spring semester's end. What she eventually came up with was characteristically thoughtful: She paired students with accountability partners each week, so that they might work on assignments together; asked dancers to journal about their experiences however they preferred—from bullet points to vlogs; and recorded audio lessons, so that students could take their class experiences outside. "Teaching on Zoom often felt like being in a cave—spatial memories were hard to create," says Miracle. "This brought a different kind of humanity to the experience."
---
During high school, Stephanie Miracle and her family moved to Germany for two years. She was thrown into German school, despite not knowing the language. "I failed all of my classes that first year," she says. But by year two, her immersion and commitment to learning German began to pay off: "I started to become fluent in German," she says. "It ended up being a triumphant experience. It was hugely rewarding, to feel that I could go through hardship and emerge with this new set of skills and insight into a culture."
Fifteen years later, Miracle found herself in Germany once again—this time as a Fulbright research fellow in dance, studying Pina Bausch's history and lineage at Folkwang University of the Arts in Essen. Miracle assimilated quickly into the nearly 100-year-old institution, going quickly from taking classes to being offered a spot in The Folkwang Tanzstudio, the international touring company associated with the school.
At Folkwang, Miracle saw firsthand how older traditions battled with and sometimes gave way to newer methods in higher ed pedagogy. As an educator interested in questioning older approaches to dance curriculum, she knew her time at the university would be a valuable learning experience.
Miracle performing with Folkwang Tanzstudio
Isabelle Wenzel, courtesy Miracle
"One of my motivations for studying there was a real interest in how traditions can be preserved without becoming stale," she says. "Those older forms come with some politics and ways of viewing the body that need to be evaluated, definitely. But there's also something in the power they've accumulated. If it's already stood the test of time, it's something strong. What is that, and how do we use that, and not let it just get buried in all the new ideas? How can we construct from that?"
Now, as a visiting professor at the University of Iowa, Miracle is able to translate what she learned at Folkwang to another institution with its own particular set of rules and traditions. She manages to straddle seemingly oppositional stances—she remains both respectful of tradition and unafraid to question long-held standards of dance in higher ed.
"I need a system of exchange with students."
Because she is a visiting professor, Miracle is uniquely positioned to both quietly observe and offer a fresh perspective. For Miracle, the time at Iowa is an opportunity to deepen her choreographic research and refine her teaching philosophy, which translates to spending a lot of time with the undergrads. "It feels mutually beneficial for me to offer them as much as I can, because that helps me better refine my craft," she says. "I don't think I have anything to lose in that, as long as I'm setting personal boundaries and not overloading myself."
Her contemporary technique classes often oppose typical dance studio etiquette—dancing with a group but acting as if you're a soloist, for example—and encourage students to question norms. "I've seen a trend in university dance department technique classes to pretend like you're alone in your own little box," says Miracle. "I like to think of technique studio time as research toward how we are in relationship to others and to space—differentiating between dancing as soloists who happen to be next to each other and when we dance truly together."
She frequently incorporates partnering, touch and floorwork into her classes. "I make use of different passageways in space—circles, for example—as opposed to just standing in the center of the room," says Miracle. "I'm interested in giving the space different attributes, playing with conjuring, a sorcery of manipulating space so it affects the other bodies in the room. I find that it changes how you train your body and also prepares you for performance."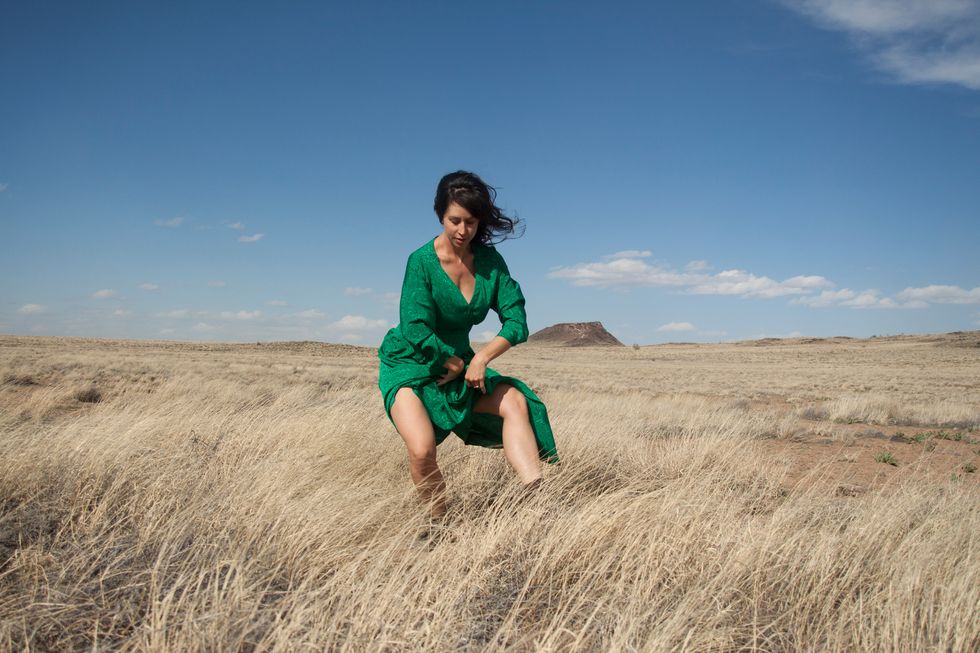 Pat Berrett, courtesy Miracle
"My approach is about hooking in to the material—and then being able to play."
Another opportunity for Miracle to compare and contrast her time in the German university system is in teaching composition. "In Germany, the approach to choreography was, 'Get in the studio and just start working, and let's see if you come up with anything good,'" she says. "It was a little bit severe. I remember watching the adjudication process for some students and thinking, 'Oh my gosh, is there any room to fail?'"
Such high expectations, coupled with little pedagogical direction, could be daunting. "And while I do have issues with that approach," says Miracle, "I recognize that it did drive some students to work really hard. My approach, on the other hand, is about hooking in to the material and then being able to play." She gives her students space and time to reflect on their choreographic choices as they go. "I like to give students the chance to test those choices to see if they work, both in how the dance is being received by viewers and also if it elicits pleasure in the maker," she says.
It's thrilling when undergrads discover a penchant for choreography. "Some of these students have no idea they're choreographers," she says, "and it's as if their whole world is exploding—it's exciting!"