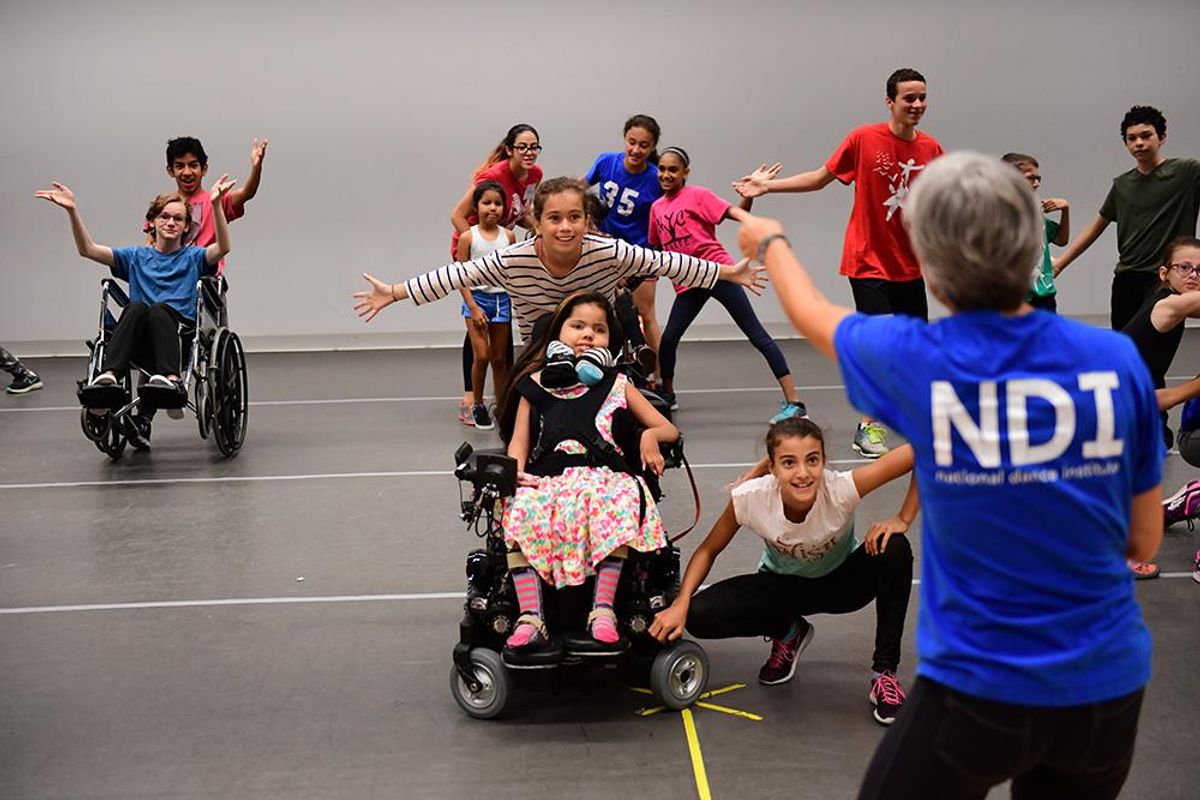 4 Key Principles for Teaching Inclusive Dance Classes, From National Dance Institute's DREAM Project
If you're like many dance teachers, you'd like to be able to teach inclusive dance classes for both disabled and nondisabled dancers—but you don't necessarily feel qualified.
But Kay Gayner (associate artistic director at National Dance Institute) and Agnes McConlogue Ferro (board-certified pediatric physical therapist) want to assure you that starting an inclusive dance program doesn't have to be intimidating. Last month in a series of online trainings, Gayner and Ferro shared their best online and in-person practices from 20 years of NDI's inclusive dance program, the DREAM Project. Here's what Dance Teacher learned when we had the privilege of tuning in.
1. Start by Understanding the Parameters…
Ferro and Gayner suggest that teachers of inclusive classes meet individually with each dancer and their family before the group meets for the first time. As Gayner says, "It's not really an assessment, but a meeting with the children and their caregivers where we talk about goals for the project." This meeting can involve movement games, discussion, and observation to see how the dancer moves naturally and what might potentially be expanded upon for increased participation in class.
"This is so we walk into day one knowing a lot about what movement possibilities there are and what safety precautions (like asking permission to touch a shoulder, or how to assist a child with standing up) we need to share with the partners," says Gayner. (However, parents are not obligated to share details or diagnoses with teachers, and you should not share diagnoses with the class, other than "need to know" safety information).
For nondisabled dancers, this meeting can be spent on practicing good partnership techniques, answering questions and talking about expectations, fears and goals for their own journey in the program.
Gayner and Ferro. Photo by Hillary Savoie, courtesy NDI
2. …Continue by Expanding Those Parameters
It's essential to recognize that the dancer you're working with is not defined by your understanding of their abilities on any given day. Especially with degenerative diseases, Ferro notes, the range or quality of movement a child performs one week may drastically change the next.
Instead, get to know each dancer as an individual, and stay observant. Ferro directs teachers to keep asking themselves: "What do they like? What are the things that work for them? What doesn't work for them? What's available to them? How can we expand upon that?" In the virtual and in-person setting, caregivers and siblings can help with facilitating this continuing individualization of movement vocabulary.
3. Collaboration Creates Choreography
Choreography for an inclusive dance class or performance should always be created in close collaboration with the dancers, their caregivers, and any physical/occupational therapists you're able to include. Rather than adapt a "conventional" step or phrase to the abilities of those who are in the class, start with the ideas sparked by how your students uniquely move, and adapt from there. "There can be eight to 10 translations of any given step," Gayner says.
A collaborative process is still possible in the virtual setting, Gayner and Ferro say. You might try creating breakout rooms, utilizing the chat box to give and receive feedback, including more improvised sections, and facilitating safe interaction with the physical environment each dancer happens to be in. Do yourself a favor, though, and let go of "left" and "right," they advise. Instead, reference "dancers' choice of one side and then the other."
4. Disability Does Not Equal Fragility
While teachers might feel extra concern about the safety of dancers in an adaptive class, as Ferro says: "You don't want to wrap them in bubble wrap! By making the effort to communicate with dancers and caregivers, you can figure out what active participation—as opposed to passive participation, which is participation defined by limitations—looks like for each child."
Most importantly, Gayner says, foster an emotionally and psychologically safe studio environment. "When challenging situations arise, we talk about it with everybody," she says. Reinforce that if medical needs arise, an adult in the room will take care of them; check in with partnerships frequently to ensure everyone feels comfortable; and (in the remote setting) ask students to keep their cameras on at all times.
Above all, Ferro and Gayner say, inclusive classes should keep the focus on what each child can do, not what's unavailable to them.