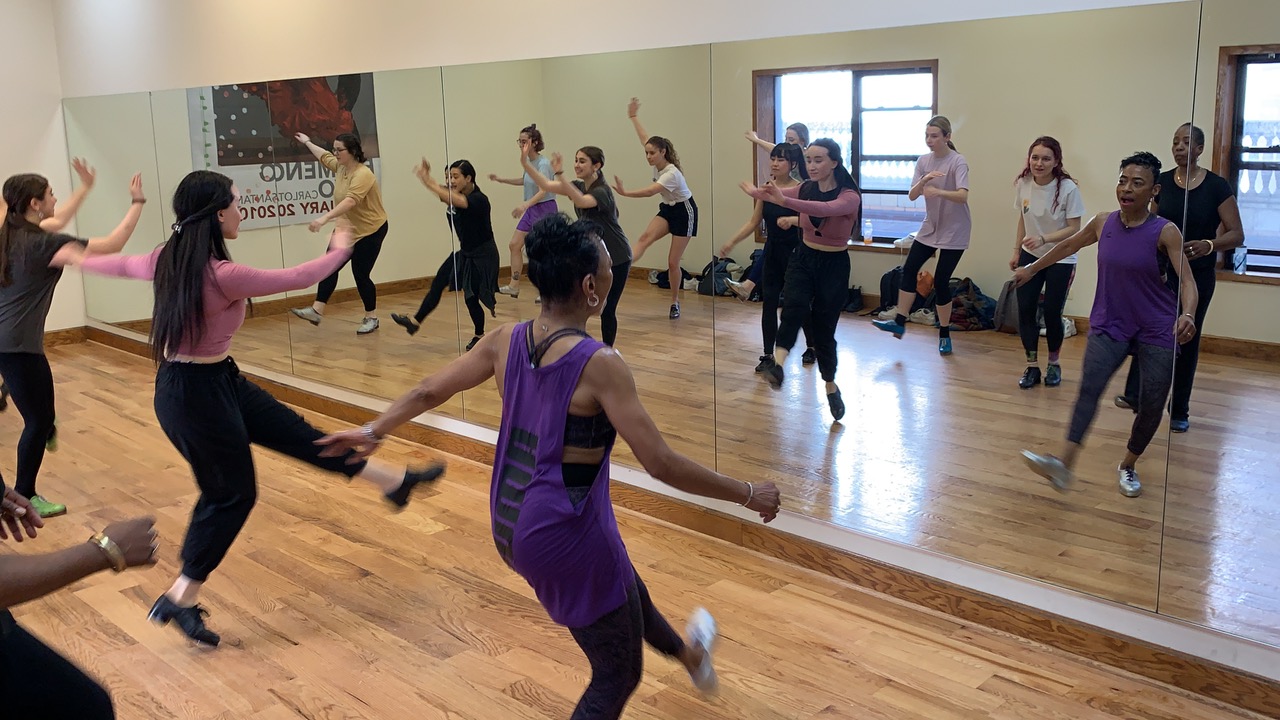 Playlists Getting Stale? Here's How to Get Out of a Musical Rut
There's a fine line between having tried-and-true music for technique class and using the same songs over and over again to the point that they become stale—and drive your students (and maybe yourself) stir-crazy.
Bringing a variety of music into your classes isn't just great for your students' technical and artistic development (and sanity), but it keeps you on your toes as a teacher, challenging your sense of rhythm and timing as well as your movement tendencies. However, curating a new playlist can feel daunting if you don't know where to look. Next time you find yourself stuck in a musical rut, give these tips a try—or get inspired with these playlists from Kristin Sudeikis, Germaine Goodson and Shaunna Vella.
Use Spotify, Pandora or SoundCloud.
There is a vast array of resources online that generate artist and song recommendations based on music you already like, most notably Spotify and Pandora. Use features like artist-inspired radio stations and playlists, playlists based on your preferences, and playlists made by friends or favorite artists to discover new songs. Choreographer and master teacher Kristin Sudeikis also recommends exploring SoundCloud, Instagram and Clubhouse, especially for lesser-known artists.
Tune in to your local radio station.
With so much music available digitally, radio stations may feel like a thing of the past. However, they're still a valuable resource if you're finding yourself resorting to the same tracks again and again. Find out what your local stations are and what genres of music they play, and tune in during your commute. New York City–based master tap teacher Germaine Goodson swears by WNYC. "From 8 to midnight each week, they play Frank Sinatra, Gershwin—all sorts of music!" she says.
Take recommendations from students.
Sometimes the best suggestions come from those who will be benefiting the most from your music choices. "Every spring, my students create a playlist for me," says Shaunna Vella, Saint Mary's College of California associate adjunct professor. "People can always come to me with requests. I feel like that's important for creating a more collaborative environment."
Take other teachers' classes.
Put on your student hat and get inspiration from other teachers. They may expose you to music you never would have considered, especially if they're rooted in a different genre. Goodson, whose background is in Broadway-style tap, finds value in taking rhythm-tap classes, even though the style is lower to the ground and the music selection tends to be different from her own.
Take inspiration from current events.
Both Sudeikis and Vella prioritize tuning in to what's going on in the world as they make their musical selections. "On MLK Day, I've always gone back to the song 'Glory,' by Common & John Legend," says Vella. Annual celebrations provide great opportunities for musical inspiration. For example, during Black History Month you could curate a playlist of Black artists who have impacted American music history. Similarly, Vella has a Pride Month playlist that celebrates LGBTQ+ musical trailblazers. She notes that in times of high tension in the world, spacious music that isn't heavy on lyrics or beat, such as sound scores, can be key. "Sometimes we're too inundated with sensory overload," she says.
Research new languages and meters.
Stuck in a 5-6-7-8 framework? Change things up with atypically metered music. "I grew up in the eight-count world, so my trajectory as a technique teacher is to push myself to teach in fives or threes," says Vella. "Lately I've been really into using Indian music and different rhythms that I wouldn't normally hear in a modern dance class."
Though you can't specifically search by meter or BPM (beats per minute) on Spotify, other users often generate playlists based on rhythmic attributes, and dance accompanists will often include the meter in the title of their songs ("Pliés, 3/4").
Consider including other languages on your playlists to expand your music horizons, too. Just be sure to look up the translation of the lyrics so you're aware of what messaging you're playing.
Recycle old songs and playlists.
Go back through your musical archives and find playlists you haven't touched in a long time. Yes, it will be music you've used before, but chances are that your current batch of students won't be familiar with it. "I have many playlists," says Goodson. "I put them away for years and years, and I'll go back to them. Classics don't die." Try setting a new kind of combination to a familiar song, or find an alternative cover by a new artist.
Listen to your surroundings. (And then Shazam them!)
Pay attention to the music you hear in your everyday life: You never know when you'll hear something that will inspire movement. Vella points to movies, passersby on the street, and stores as places where you can get musical inspiration. Jot a note down in your phone, or, better yet, use the Shazam app to identify the song in a matter of seconds.