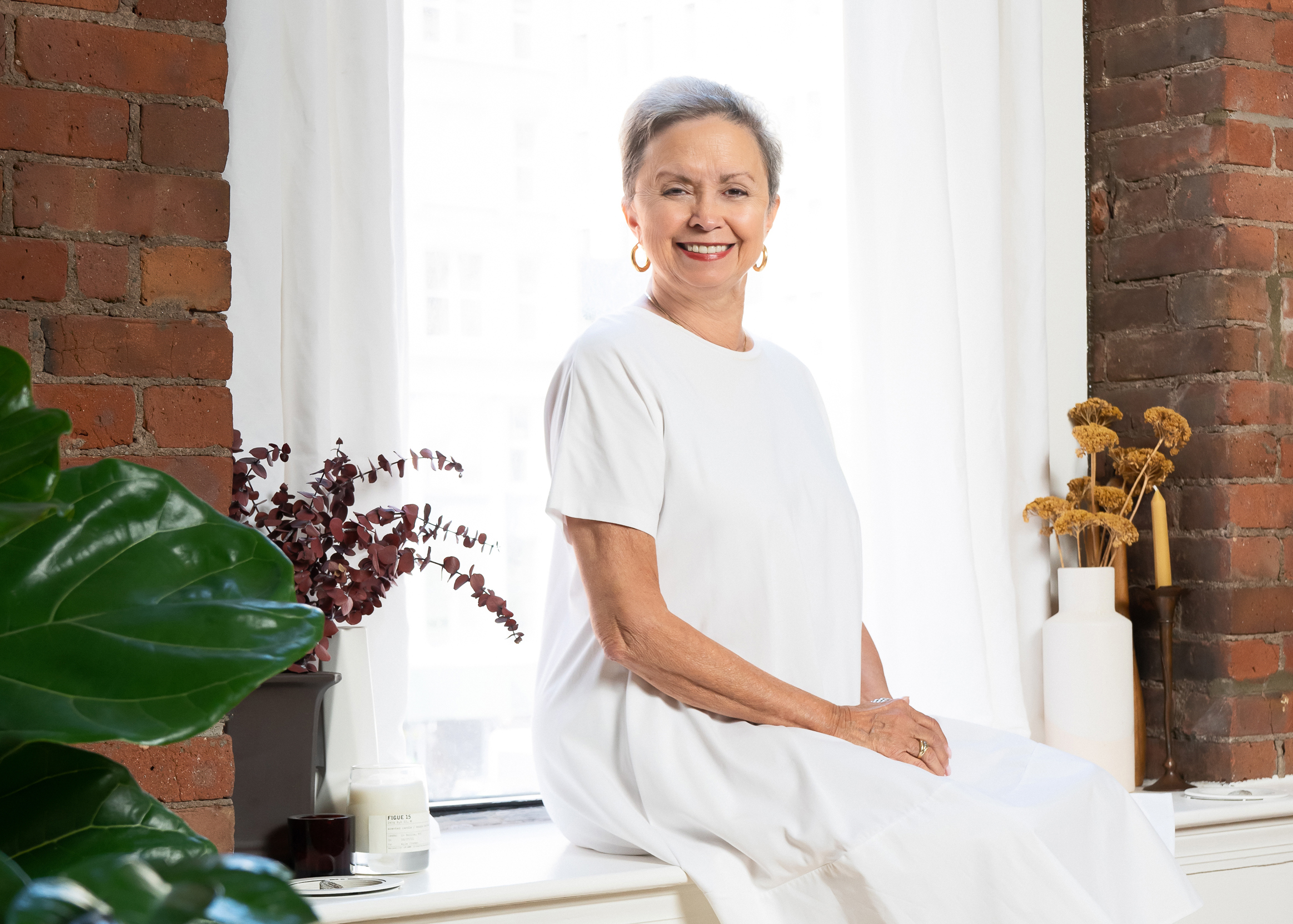 Kay Mazzo, Dance Teacher's 2022 Awardee of Distinction, on Preserving Balanchine's Legacy
Kay Mazzo has been a symbol of strength and grace in the ballet world since she made her debut with Jerome Robbins' Ballets USA, while a teenager, in Robbins' Afternoon of a Faun. George Balanchine hired Mazzo into New York City Ballet shortly thereafter. Her extreme delicacy, musicality and sense of style inspired Balanchine to create nearly a dozen roles for her, including Duo Concertant and Stravinsky Violin Concerto's Aria II.
Mazzo started ballet in her hometown of Chicago and moved to New York City to study full-time at the School of American Ballet at age 13. Almost immediately after joining NYCB, she performed soloist and principal roles. For many, she was the epitome of a Balanchine ballerina. "Her sheer beauty, neat footwork, hands and physicality were just gorgeous," says Susan Pilarre, a lifelong friend and colleague. "But it's musicality that makes the best Balanchine dancers, and that's what she had: the ability to illustrate music through the step."
As memorable as her stage career was, the decades following Mazzo's retirement in 1981 are where she has made her most significant impact. She joined SAB's permanent faculty in 1983, was named co-chairman of faculty in 1997, and chair of faculty in 2018. She stepped down from that leadership position earlier this year, but still teaches at the school.
For legions of students, Mazzo's authoritative, focused presence in the studio has taught more than the specificities of the Balanchine aesthetic. The characteristics that defined her dancing are the same ones that have made her teaching exponentially powerful. "How she demonstrates is what makes her so effective and distinctive," says Pilarre. "She has in her body the 'Balanchine DNA' and is able to express it."
Mazzo's insistence on precision and clean technique are contagious, as is her grace. She imparts a quiet inner strength and sense of purpose to young dancers, along with the egoless nature of their shared mission: to develop into the best dancers they can be, with Balanchine's principles as their foundation.
While that goal will always remain firm, Mazzo is keenly aware that the ballet profession has changed significantly since she was onstage—and that SAB's advanced students need to be ready for anything when they start their careers. To that end, she's overseen the introduction of regular workshops at the school, taught by experts in a range of dance styles. The past three years have included guest teachers Kyle Abraham, Noah Gelber and Francesca Harper for contemporary, and Irina Dvorovenko and Adam Luders for Petipa and Bournonville workshops. "These teachers represent other companies and what our students will be faced with when they go out into the world," Mazzo says. "It's crucial that we not be obsolete; we're not a museum. But at the same time, SAB teaches the Balanchine aesthetic and that will always come first. This is his house."
Below, Mazzo reflects on her life in the house of Balanchine.
It's admirable, and rare, to have equal success in all areas of the field: onstage, as a teacher and as an administrator. Did you envision that for yourself early in your career?
I always knew I wanted to teach, and Mr. Balanchine knew that. When I had my son, Andrew, I took quite a bit of time off from the company and realized that if I came back, I'd hardly ever see my husband or son because of our performance schedule. So I told Mr. B I didn't think I would come back, and he said, "Well, then you go to the school and teach." And I did, and just stayed and stayed and stayed. I loved it. I found it more rewarding than dancing, even. Because when you're dancing, you're in your own, wonderful world, but it's just me, me, me. When you teach, you reach so many people. You hand something down to them, you have something to do with how they see ballet, and you see progression.
How did you learn how to teach? Did anyone guide or mentor you?
Mr. B did. I asked him what he wanted me to teach, and he said, "Teach what you know." He also said that as I taught, I'd see what the students needed—and he was absolutely right. I had as guides all these extraordinary teachers of my own—Stanley Williams, Antonina Tumkovsky, Helene Dudin, Felia Doubrovska, Muriel Stuart. I remembered how they made me feel respected as a student. I always felt that if they corrected me, it was positive. And that's what I wanted to carry on.
With every passing year, fewer people remain who learned directly from George Balanchine. How will we keep the Balanchine way of dancing alive as younger generations take on that task?
I think it's by doing what we're doing, which is bringing dancers back through our National Visiting Fellows Program. It's coming full circle: You train at SAB, dance in NYCB, and then come back to the school, watch and learn from us who are teachers already, and then you teach. That is exactly what Mr. B wanted.
What are the core elements of the Balanchine aesthetic and style that are so important to maintain?
The first is musicality. Then the energy, the precision, and moving big, with a deep, juicy plié. When you lift your leg, you do it with energy; when you put it down, you do it with energy—but exactly with the rhythm. And then the fingers, the port de bras. Balanchine training makes it possible to dance in all different styles, because you are so aware of exactly what you're doing with your body.
As you gained experience as a teacher, did you make any discoveries?
I realized that as you're giving a step, whether it's at barre or in center, you'll see what the students understand about it or not. And then you'll see what you need to do to make them understand it better. The students are so eager, so hungry, that if they don't get it, well, guess what? You have to pare it down a bit and explain it more in depth or differently.
SAB is at a crossroads, with many new teachers and a rapidly changing ballet world. How is the school evolving while staying true to its mission?
First, we must keep strong the Balanchine technique and aesthetic. But now we also sprinkle it with other styles, so our students have different influences.
One major change to ensure that Balanchine's vision remains true is that we've formalized the syllabus for the Children's Division. When I first started at SAB, we had Tumkovsky, Dudin and Elise Reiman teaching the children's classes. They would talk every day to each other about each class, what should be taught, when they should progress. I learned from Francia Russell how to write down a syllabus and then worked with Katrina Killian, who was observing Tumkovsky and Dudin and Reiman's classes. She wrote it all down beautifully, and now when our teaching fellows come in, she works with them and shows them how it's done. It's brilliant, I have to say, and is exactly what Balanchine had been teaching and wanted his teachers to teach.
Is there something you're most proud of in your career?
I think having maintained the overall purpose of our school, which has been to respect the students and to have them understand that discipline and respecting themselves, other people, and our artform is part of their life. Becoming a ballet dancer is not easy. It takes a lot of concentration, discipline and hard work. And our teachers help them do it. I want students to understand that I'm on their side. We're working together to get them to be the best dancer they can be.
Editor's note: Tickets for the 2022 Dance Teacher Awards are available for the ceremony only or for the ceremony with cocktail reception (please reach out to [email protected] to inquire about group ticket pricing). Proceeds from the cocktail party fund the Dance Teacher Scholarship at MOVE|NYC|. Don't miss the chance to join in community with and be inspired by this network of dance teachers. Get your tickets now! We can't wait to see you there!